Regular price
Sale price
$31.01
Unit price
per
Sale
Sold out
Color

Bunch Porto Rico:
Copper Skin
Variegated Flesh (orange, pink, & yellow)

Vardaman:
Golden Skin
Orange Flesh
Maturity Date

Bunch Porto Rico - 120 Days; Vardaman - 110 Days
Shipping Info

All plants are packed and shipped the same day. See our shipping schedule below.
View full details
Our Container Garden Collection includes two varieties that have a "bush" growth habit, making them ideal for container or raised bed gardens. Both of these varieties have compact vines as opposed to the long, trailing vines that most sweet potato varieties produce. As a result, they're perfect for gardeners with limited backyard garden space.

The Container Garden Collection Includes:
Bunch Porto Rico Sweet Potato Plants
Bunch Porto Rico sweet potatoes have a copper skin and a variegated flesh with shades of orange, yellow, and pink. This was the preferred sweet potato variety of our co-founder Claude Steele. It has a 120 day maturity date and is one of our longest-maturing sweet potato varieties. You'll need at least four months of warm weather in the spring and summer months to get a solid harvest from these plants.
Vardaman Sweet Potato Plants
Vardaman sweet potatoes have a golden flesh and a deep orange flesh. These sweet potatoes have a firm flesh that allows them to store longer than most varieties. They're great for frying, roasting, and making sweet potato casserole. Vardaman has a 110 day maturity date, so these plants will be ready to harvest 1-2 weeks before Bunch Porto Rico. Be sure to keep track of where you've planted each variety so you can harvest at the right time.
Growing the Container Garden Collection:
We recommend a 10-12" plant spacing and a 4' row spacing with Bunch Porto Rico and Vardaman sweet potato plants. If you have a raised bed that is 4' wide, one row down the center of the bed should be sufficient. Although these are "bush" types, the plants will still likely crawl over the side of your containers or beds a bit.
Sweet potatoes are warm season vegetables that thrive in the summer heat. As a result, they should not be planted until your garden soil has sufficiently warmed in late spring or early summer. Although sweet potato plants are relatively drought tolerant, harvests will be more bountiful when consistent irrigation is provided. If you frequently experience weeks without rain during the summer months, be prepared to water your sweet potatoes with overhead or drip irrigation.
*For more general sweet potato growing tips, click here.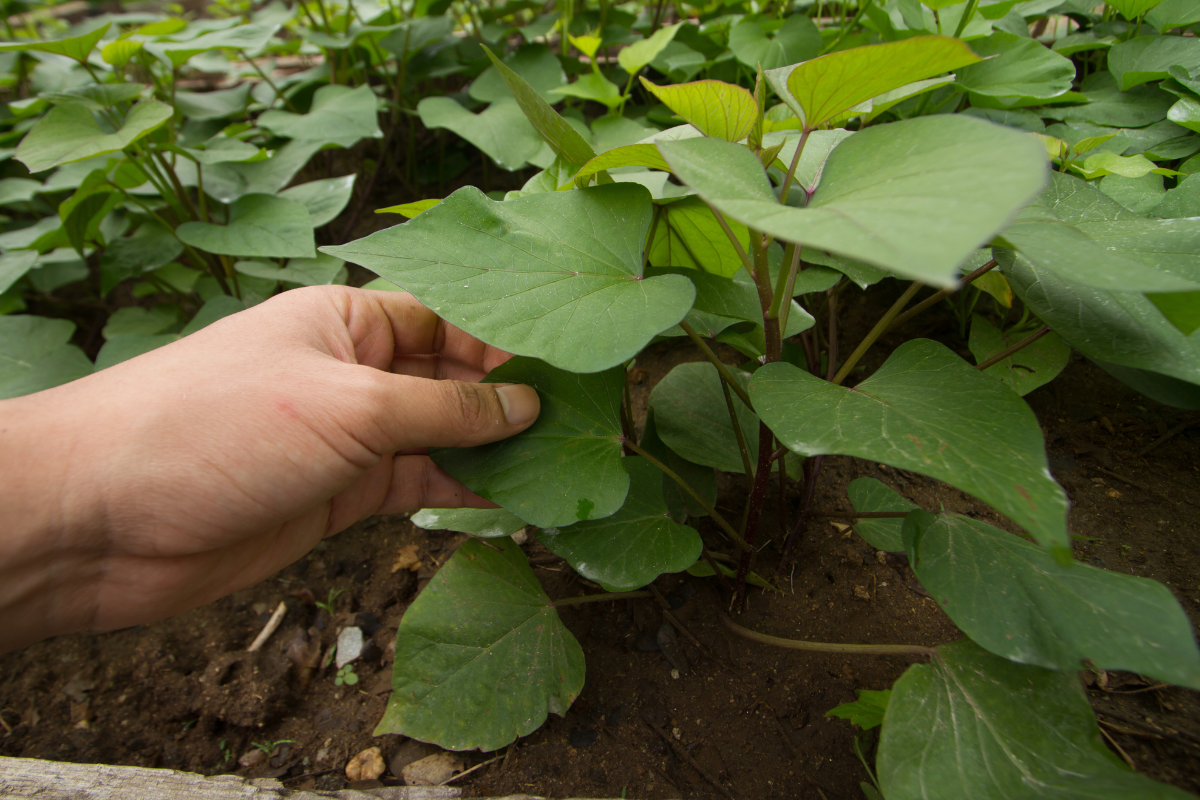 Certified Sweet Potato Plants
All our sweet potato plants are inspected and certified to be disease-free. Our fields are regularly inspected and the sweet potatoes are checked daily during the harvest period.

The sweet potatoes are inspected again once in the storage house and checked a fourth time when placed in the beds for plant production.

This certification process is rigorous, but ensures our customers receive the highest-quality sweet potato plants.
Sweet Potato Plant Shipping Dates
Sweet potato plants should be planted once the risk of frost has passed and soils have warmed. Our plant shipping schedule ensures your sweet potato plants will arrive when your weather is ideal for planting. This schedule also ensures that you'll receive your plants in time for the sweet potato plants to reach full maturity before your first frost in fall.

Shipping Map

Shipping Schedule